DSU Women's Basketball Prepares for National Championship Tournament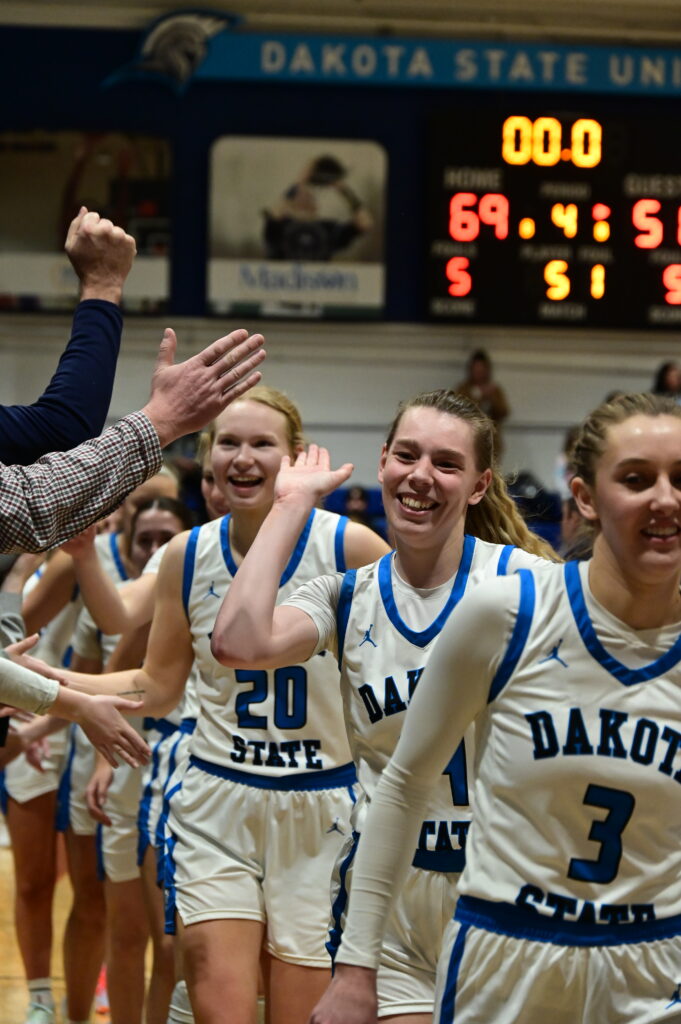 The Lady T's look to shake off their recent heartbreaking championship loss to Mayville State and make a run for the national title this Tuesday. After a stellar season with only 6 losses (four of these were losses to national-qualifying teams), they went into the post-season tournament as regular season champions and were 24th in the final NAIA national rankings.
Highlights of the lady's regular season include a perfect home record, a 13-2 record against conference opponents, an epic revenge match win against ranked opponent Briar Cliff, a 15-game winning streak, and three 100-point games. DSU has a fast and aggressive playing style on both sides of the ball which capitalizes on steals and shooting inside the paint. Senior forwards Savannah Walsdorf and Elsie Aslesen played a major role in DSU's offense and defense this year. Aslesen joined Walsdorf this year in DSU's 1000-point club and both received all-conference honors. Aslesen also was announced the NSAA defensive player of the year. While Aslesen and Walsdorf are key contributors, the team's strongest attribute is its depth and chemistry. Coach David Moe can confidently rotate players whenever he wants so that they can stay fresh and quick to the ball the whole game.
Moe was recently awarded the North Star Coach of the Year award for his fourth straight year, and it's deservedly so. Moe has created a new culture for DSU women's basketball and turned the program around from something mediocre to a dominant, tightly knit group. This is a team that knows how to win games by rallying around each other and executing. Moe's coaching instills a high value of character and sportsmanship. Within his 6 years of coaching, the Lady T's have been regular season conference champions for three years in a row and they have brought back 2 NSAA Tournament Championship Banners. This will be their third consecutive national appearance.
This year's tournament game was a rollercoaster of emotions. Moe had already beaten his Alma Mater 3 times this year, including a dramatic away game win in overtime in January. DSU jump-started to a 7-0 lead by getting three quick turnovers and three quick scores, forcing the Comets to call a timeout only 1:10 after the tip-off. Unfortunately for the Trojans, the Comets would regroup and go on a mostly-unanswered scoring frensy, finishing the half with a commanding 17-point lead (25-42). DSU's failures in the first half were mostly a result of their being unable to answer to the Comet's excellent shooting. Too many three-pointers were attempted and there was a hesitance to drive and get close to the basket.
Despite the point deficit, DSU came out of the locker room composed and determined. The Trojans ate away at the comet's lead. DSU came within four points of Mayville twice in the fourth quarter, but things would fall apart in the end. The Trojans fouled 7 times within the last two minutes of play and the Comets would once again pull away. The final score was 52-66.
Though they missed the automatic qualification, DSU received an at-large bid for the NAIA National tournament and is seeded 6th in the Liston Quadrant. The ladies will be traveling to Wichita Kansas to play the 11th seed, Morningside, at 8pm CT on the 7th of March.
The Lady T's won their previous encounter with the Mustangs during the regular season. Morningside was ranked 15th in the nation at the time. The mustangs were bounced out of the GPAC tournament in the opening round by Briar Cliff, who'd go on to win the championship game.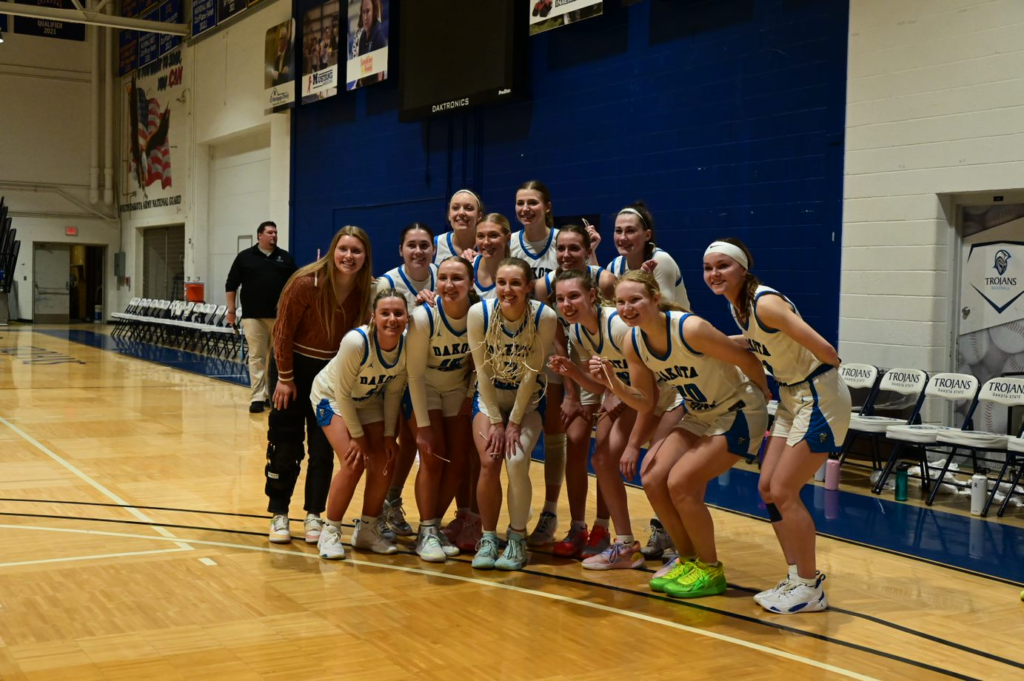 First-year assistant coach Jacob Leier took some time out of his day to answer some questions about the team's journey this year:
Do you guys always run full court press? How would you describe your schemes?
We pick up full court pretty much every possession, every dead ball for sure. We have a couple different schemes. Some are zone, some are man. We like to dictate our will on the other team the whole game. Our style of play is fast, free, and fun. People think it's easy to do it from the offensive side, but we like to do that from the defensive side as well. Sometimes it does take a little while to get everyone on the same page with our presses and if you don't have five players on the same page with a full court press, you get beat. So, there are times where coach has, in the past, pulled back a little bit. I think you saw that earlier this season when we were trying to fit in all of the new pieces. Once we get all five on the same page, we pick up full court as much as possible.
Has the chemistry of this team improved as the season has gone by?
The chemistry has really been there especially off the court throughout the summer, but we did lose a lot of players last year and even a lot of our returners have a new role this year. The only two that kept the same role from last year are Elsie and Savvy. Courtney (Menning) started last year (as a shooting guard), but now she's starting as a point guard which is a totally different role for her. I think the fact that they've been able to gel together so well speaks to how good this chemistry is. We have a lot of really talented players, and sometimes that can create friction between them. But really, with our girls, they've come together and they keep pushing themselves to get better and better, which is fun to watch. Not a lot of teams can go as deep.
What's your favorite part about the tournaments?
Tournament time is really fun. Part of the beauty sports is that it doesn't last forever. Just the specialness of being part of a group like this is that every year every team is a little bit different. There's a different atmosphere, a different chemistry, and a different family. Any time you lose, it could be your last game playing with that group. There's a different level of intensity when it's "Win or go Home".
What are some things you'll miss about this year's seniors?
Our seniors have been absolutely fantastic this year in leading this team. Their leadership on and off the court and their talents on the court are really special and I'm blessed to be a part of that and be able to coach that. But, what I'm going to miss is just seeing them every day and getting to know them. I've been here almost ten months now and getting to know them over that time has been really special. Yes, they're very talented basketball players and great leaders on the court, but they are such great people and all three of them are not afraid to be themselves. From Courtney to Elsie and Sid (Sidney Fick), they're very different personalities but they are 100% genuine in who they are and that's why they are such great leaders and role models for our underclassman and really anybody watching our games.
Would you say it's important for coaches to have interpersonal relationships with their athletes?
If you're coaching just for the basketball side of things, I don't think you're in it for the right reasons. You get to spend so much time with these people and Coach Moe has done such a great job of building a culture of people who have high character who work really hard and have a deep care for each other. Getting to know everybody not as a basketball player but as people is what coaching is all about.
There were a lot of seniors who graduated last year and Jessie Giles is playing somewhere else this year as well. Do you think people wrote the team off before the season started because of that?
I do think at the beginning of the year when they talked about our team it was more about what we'd lost than what we had. There wasn't one second throughout the offseason or the preseason where we'd thought that we'd take a step back. And then of course we started the season against three really tough games. All three of those teams are going to be in the national tournament here. We started 0-3 and everyone said, 'Oh yeah, it's hard to replace those seniors', and it definitely is. They did leave a big gap to fill, but we have the players that have stepped up into those rolls and a lot of that is in part to our senior leadership and the closeness of this team and that starts from the top with the seniors and how they have been willing to sacrifice and serve one another. It's been really special to see this team come together, building on the success from the past but also taking their own identity with how we do things on the court.
Are rankings something that the coaches think about a often?
Yes, we'd like to be ranked higher: we'd like to get a good seed in the national tournament. But it's not something we talk about that has anything to do with our process. Our process is that every single day we are just trying to be who we are and do what we do to the best of our ability. It doesn't matter if we are playing for a conference championship or playing a team that we know is going to be an easier game for us, our goals stay the exact same. We are going to come in and just try to compete to our standard. Whether that's a game or practice too. If we can just get better every single day (that's kind of been our mantra), we're going to get to where we want to be. Our girls have done a good job with that throughout this whole season. Especially these last couple of months as we prepare for tournament time. We just try to bring it every single day. We give our best and get better and whatever happens happens.
For more information about the tournament schedule and a link to the livestream, visit DSU's athletic website. Go Trojans!