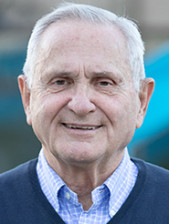 At 79 years of age and after 14 years at head coach of DSU men's basketball, Gary Garner will be retiring. Garner led the Trojans to 2 regular season titles, 2 NSAA conference championship titles, 2 A.I.I. conference championship titles, and 4 different national tournament appearances including a 2013 run which in which DSU made it into the elite 8.
Before his stint at DSU, Garner coached at Southeast Missouri State, Drake, and Fort Hayes State. Garner is in the RMAC hall of fame for his coaching at Fort Hayes State. In 1995, he led the Tigers to an incredible 34-0 record and an NCAA D2 national championship victory. Garner has won over 500 games as a head coach. 191 of those wins were at Dakota State, which is the most wins for a men's basketball head coach in program history.
During his tenure here, Garner also won a battle against Pancreatic cancer. Garner remained head coach of the team throughout his fight. Purple "Garner's Gang" t-shirts were sold several of the years he coached, and the proceeds went to cancer research.
Garner's 58 years of coaching has effected countless lives. At Dakota State, he coached 2 NSAA MVP players, 17 all-conference players, and 5 all-Americans.
"His philosophy is very hard-nosed, very old school: a tough, grind it out attitude… he just wanted tough players that didn't play for themselves; that played for the team. He wanted players that would take charges and dive on the floor and just be selfless. That's why I enjoyed playing and coaching for him: it was a lot of fun. He made the game very easy and understand. He's very smart: he ran the offense for the Chicago bulls: he knows what he's doing so just incorporating and learning from him was just a lot of fun."
Stephen Klekas; a former athlete and former assistant coach for DSU basketball.
DSU has already found a new head coach for the men's squad in a seasoned and proven coach: Darren Tighe. Tighe had a record of 92-42 in his tenure as the head coach of North Star opponent, the Mayville State Comets.