Trojans Shut Out Warriors in Last Game at Trojan Field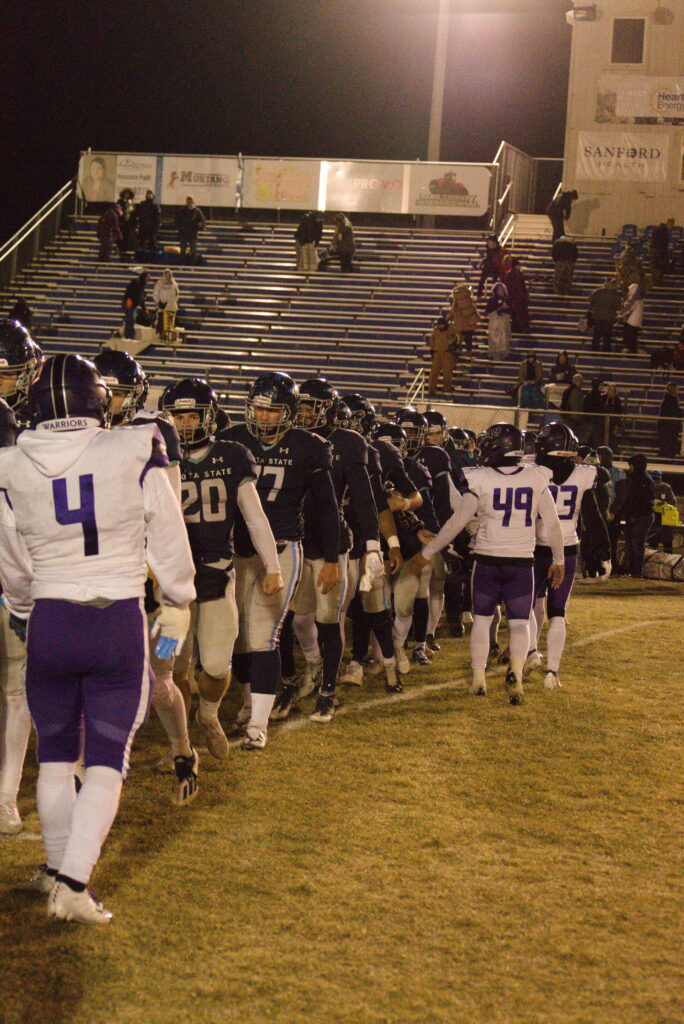 A brave group of students, parents, and alumni weathered the cold and snow this past Saturday night to see DSU (5-4) win over conference opponent Waldorf University (7-4) in the very last game held at Trojan Field.
All alumni who played on the field were invited to join the team for the coin toss to start the game. After the game, attendees had the opportunity to take a piece of the field home with them.
The field opened in 1968. It has held countless games and events. It has been an important part of the Madison community for generations. Former Trojans safety and current defensive back Coach Daidrick Kibbie says:
"During my very first game playing here against Dakota Wesleyan in 2017, I thought to myself, 'Man, there's a lot of people at this game!' There were people lined up at the fences, the bleachers were filled. It was on TV. During the national anthem, there was a guy jumping out of an airplane with the flag on him. That was big for me. Coming from Houston, and I was used to being in big stadiums. When you come to a small town, you'd never think that so much of the community would be in attendance and backing up the football team. That was one of my best experiences playing football: just seeing a community come together for this one game and show so much support. It was a great atmosphere.
Despite the rich history, DSU athletics has outgrown its sports facilities and needs an upgrade. There hasn't been a collegiate track and field competition at Trojan Field in over 5 years (the last time was the NSAA Track and Field Championships in 2017). Other schools in the NAIA have newer scoreboards and newer tracks. Some have turf fields. Most of them have indoor facilities for athletes to train in. Some of DSU's sports teams are currently without a locker room while other locker rooms are used by multiple sports. Office spaces are cramped. Head football Coach Josh Anderson said, "There are a lot of bittersweet memories. I played high school ball there. I played college ball there. I've spent 14 years coaching on that field, but it's time. It's time for a new facility."
Next year, the football team will be playing on the track and soccer field, which is being built right now. The year after that, they will be playing in a new football stadium. DSU's master plan is to have indoor facilities available for all sports. The softball, and baseball team will have their own fields and no longer will have to share with the high school. The indoor track will have a field for teams to practice on during the wintertime.
Before the game, we asked Coach Kibbie what part of the new facilities he was the most excited about:
"We'll be much more productive in the wintertime. If we're on grass and it's raining, it's a terrible practice. If it's snowing, it's a terrible practice. Even for the track team. Indoor comes, we won't have the track team running in the hallway. We won't have the football team in the gym, we won't have the baseball team in the gym. Everyone will have enough room and enough resources to be that much better as a program. Just think about how much more productive we'll be as: we'll now have those resources that some of these other schools (in our conference) have and that these GPAC schools have.
"It will also help with recruiting and drawing in those top-level athletes, especially with the soccer team coming and the drone racing. They say Dakota State has been on the rise for a while now and we're actually starting to see it. This project came to light when I came here … and now it's actually happening. This is our last game on Trojan field. It's kind of bittersweet. I told my athletes that this game is a lot bigger than you think. They want to see you go out with the 'W'. When they bulldoze that thing down, we want to be able to say that we won the last game on that field."
The Trojans won the game handily, shutting out Waldorf 13-0. This was DSU's first shutout at Trojan Field since 2004 as well as their first victory against the Warriors in 5 years. Halfback Gavin Holland lead in rushing with 130 yards and scored the only touchdown of the night. QB Zach Brooks contributed 93 yards on the ground and 67 through the air. Jay Skogerboe capped off the game with an interception with 1:30 left on the clock. The trojans would rush for a first down and kneel twice to end the game.
The Trojans finished their regular season ranked second in the NSAA with a record of 6-4 and a conference record of 4-2. The Trojans will lose six Seniors after this year and have a good stock of young players.