Cross Country NAIA National Championship 2022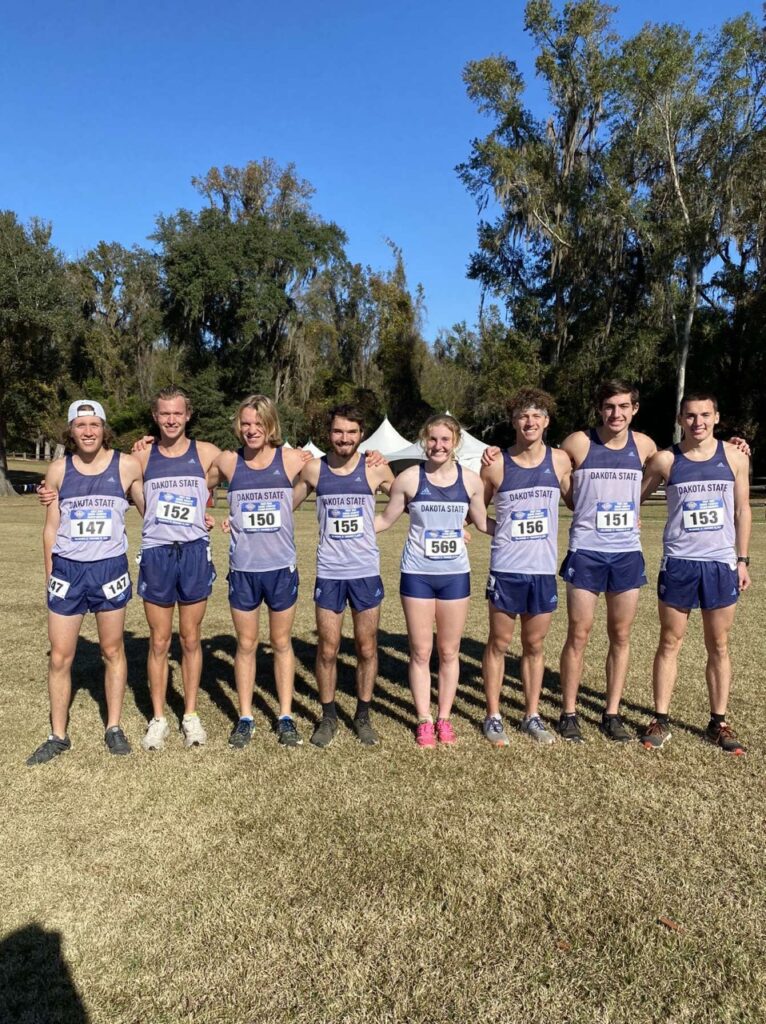 8 Trojan cross country runners and 2 coaches flew out of Sioux Falls on the morning of Wednesday, November 16th, excited and anxious to race one more time this year and represent their school in Tallahassee, Florida. Seven of these runners were from the men's varsity team, who two weeks prior had won the NSAA conference meet for the fifth year in a row. The 8th runner was Lindsey Roth, who had placed second at the conference championship with a collegiate personal record of 19:15 over 5K.
This year's national chamionship was held in Apalachee Regional Park, where Florida State University hosted the NCAA D1 National Championship last November.
It was a record day for most of the Dakota State men's team, but off days for a few of the runners cost the team several places. Freshman, Curtis Johnson, had a career day, to say the least, running one of the most impressive races ran by a first-year runner in school history. Johnson crossed the finish line with a huge PR of 26:05.5, finishing 173rd overall. His previous personal best was 27 minutes at the NSAA conference meet. Third-year runner Taylor Myers quickly followed with a new personal best of 26:09.3.
Tyler Kennedy led the next group of DSU runners, finalizing his DSU cross country career with his second fastest time of 26:53.6. Evan Slominski also ran the second-fastest time of his career with a 27:00.9. Sophomore Cody Farland followed by running a 27:05.5. Colter Elkin came in at 27:35.8 and Martin Bailey ran a 28:03.
Despite having one of the best regular seasons DSU has seen for a couple of years, the Trojans finished 33rd and failed to meet their expectations. The failure to have at least one runner within the top 100 was the biggest downfall. While the team time and team average improved significantly over last year's national meet, it's arguable that this year's course was faster and the conditions were fairer.
The women's race started late and was called back due to a runner falling shortly after the gun went off. Roth made her nationals debut, running a 20:24.8 and placing 269th. The freshman ran a slightly faster time than, now-alumni, Jacia Christiansen ran at the previous nationals meet. Roth's future as a runner at DSU looks bright.
The DSU men's team will continue their dynasty of conference championships and improve their performance at nationals this upcoming year. All the national qualifiers on the men's side will be returning other than Kennedy and Elkin. The women's team also looks to build on their current roster of promising young runners with senior Jada Anderson leaving after this year. Follow the distance crew as they look to improve their track and field times and help DSU take back the indoor conference title. This year's track and field schedule is below. Go Trojans!