Homecoming: Hands for Hope and Cake Decorating Contest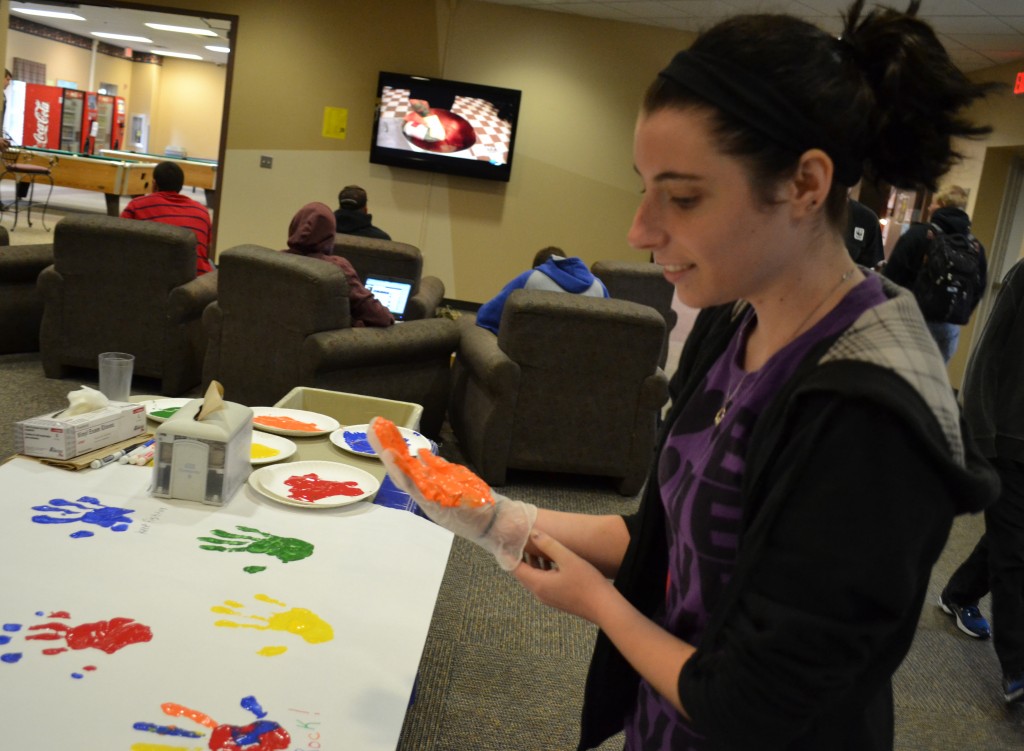 Bryan Muller
This past Wednesday was a very busy day at lunchtime in the Trojan Center Spectrum lounge.  On one side of the lounge, was the cake-decorating contest, where six groups of students decorated cakes with their unique interpretation on this year's homecoming theme.  On the other side, was College Against Cancer's Hands for Hope event.  Each event allowed for students to display their artistic abilities and made for a very enjoyable lunchtime.
With this year's homecoming theme of superheroes, and Wednesday's cake decorating contest displayed super bakers showing off their amazing cake decorating skills.  First, there was Colleen Ryan whose cake was designed around a campus for superheroes, named Gotham U.  The "campus" on the cake was decorated with several different figures with pictures of different faculty members on the figures.  Next, there was Paige Thiewes, whose cake was not only decorated like a soldier; it was also baked in the shape of a soldier.  Then, there was the group of Chelsea, Katie, Katie and Lainia whose cake was shaped and decorated like Mjölnir, or the hammer the superhero/Norse mythological figure Thor wields.
Following, was a cake designed by Adam Steffes that was decorated with various superheroes ranging from Superman to the Incredibles.  The ESL class's cake was next; this cake was decorated with Batman and Spiderman and Batman surrounding the DSU logo.  Margaret Greene designed the last cake on the table; on this cake was a football field that was lined with such action figures as Wolverine and The Hulk.  At noon, the judges awarded three winners: Paige Thiewes won for Most Original, Colleen Ryan won for Most Humorous, and Adam Steffes won for Most Theme Related.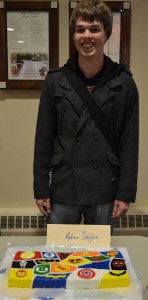 Also holding an event on Wednesday, was Colleges Against Cancer, who was holding their second annual Hands for Hope event.  September is childhood cancer awareness month, and CAC was doing their part to bring joy to children suffering from cancer by holding this two-day event.  What the event entailed was people putting on a glove, sticking their hand in paint of their color choice, and placing a handprint on a banner.  Underneath this handprint, people were invited to write an inspiring message or to sign their names to help let these children know that their prayers and thoughts are with them.  Over the two days, the group filled two banners with handprints of all different colors and inspiring messages.  These banners will be taken to Sanford Children's Hospital later this month to help provide hope and joy to these children.
Wednesday was a great day to be in the TC to observe several amazing cakes and to help inspire children in need.  Congratulations to the winners of the cake decorating contest and our thoughts are with the children to whom the banner is being taken.