Trojans Debut New Uniforms at Mount Marty Opener
DSU's facilities aren't the only things getting updates: DSU's track team is serving a fresh new look! The Trojans debuted their new uniforms on the 14th of January in Yankton, S.D.
The new Under Armor uniforms feature a checkered, electric blue pattern across the front. The running and throwing shorts are a solid blue while the tights are a tasteful mix of black and blue.
It was a smaller meet, with only 7 teams competing in the Lancer's Ruth Donohue Fieldhouse. This meet was a chance for the athletes to shake the rust off and compete at a meet for the first time in over a month.
The men's thrower squad was back like they'd never left. Senior Jacob Joachim PR'd in the weight throw, adding his third entry in DSU's list of the top 10 furthest throws. The 16.38-meter toss surpassed the NAIA B standard. Joachim was runner-up to fellow Trojan senior Conner Tordsen, who easily hit A standard, throwing the second-furthest throw in school history with a 17.89-meter toss. Tordsen also owns the school record and is already close to hitting it again just two meets into the season. Tordsen was named the NSAA Field Athlete of the week and is now automatically qualified for nationals in the weight throw.
First-year runner Lindsey Roth earned the NSAA track athlete of the week thanks to her performances in the 1k and the 4×800. Lindsey recorded her first collegiate 1000-meter run with a time of 3 minutes, 21 seconds. The ladies 4 x 800 team clocked the 10th fastest time in DSU history. Roth, Jada Anderson, Madelyn Sylva, and Saddie Palmquist won the relay title with a 10:38.3.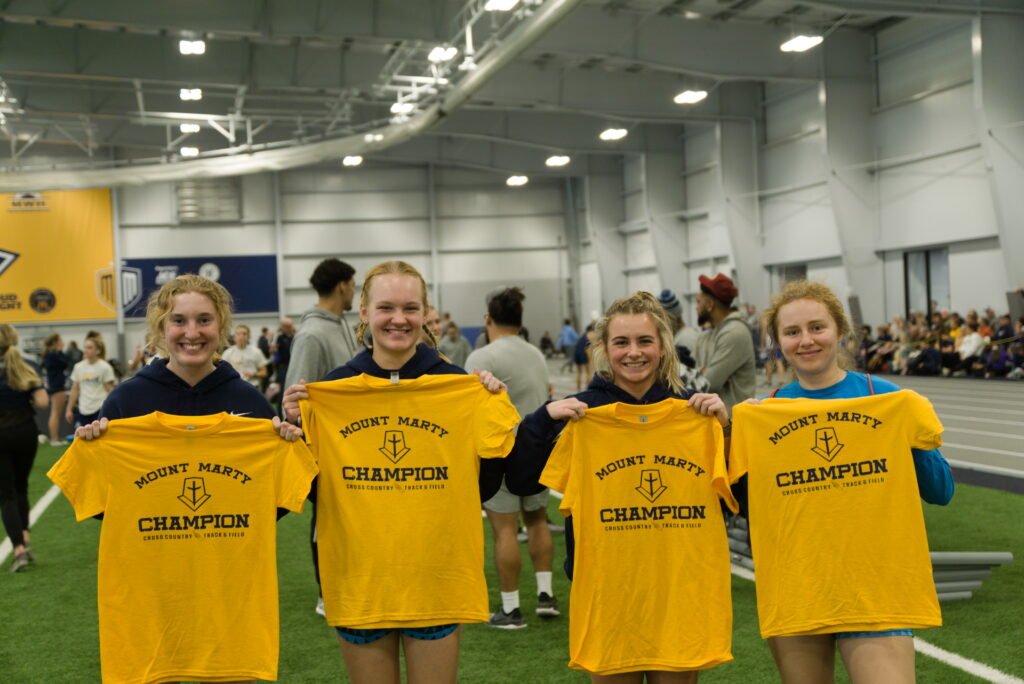 After the meet, we caught up with 10th-year thrower's coach Alex Glover, who has been building a dynasty of athletes who qualify nationally in the throwing circle.
I talked to some of the throwers about how the meet went and some don't seem happy with their results even though a lot of them hit personal records.
"I'd rather it be that way. I'm glad they want to get better. It was the first week back from break I thought we had a really good meet. We went 1, 2,3, 5, 9 in men's weight it went really well. The women are doing well. That group of freshmen is killing it, Gabbi is killing it… I think honestly we are way ahead of where we expected to be even. Someone like Conner, I can't talk enough about him. He came in as an awful shot-putter. He'd admit that. He came in as a 6-4, 195 pound guy. He just didn't have a super strong background. He's taken a new approach. Coming in here knowing "this is it", this is his last year doing it. Something has really clicked: he's improved a lot in the event. If we keep on the trajectory, I think he has a shot at making finals and maybe get top 8. Last year, he was a high 13's, low 14's guy in the shot put and now he's consistently over 16 meters in practice. I hope we can get him up to 17 meters and get him in the top 8."
I've noticed Houston Lunde's technique looks a lot better.
"Oh yeah. Houston's technique and consistency has improved a lot over the last year. He threw well as a freshman… but this year, he's really taking a leap. I can't wait to see him in outdoor season in hammer. He's been off and on technique-wise. He would tell you that too: that there are days that he can show up and not even remember how to throw and go 10 – 15 throws and just struggle and not get a rhythm at all. But this year he's been able to be a lot more consistent. And that's the name of the game when it comes to throwing: it's cool and all to be in practice and hit one huge throw, but can you recreate that in a meet? Can you be consistent?"
So, what was your role in the process of acquiring these new uniforms?
"I first proposed it to coach Drealan because I knew we had a need. Typically, the way Dakota State does it is that each team's uniform is on a four-year cycle and since the rebranding three and half years ago now, we've had these uniforms. They've been good to us, but Adidas decided to stop making the ones that we had and I kind of had a moment where I was like 'oh crap. What are we going to do?'. Then I took a shot in the dark and I asked Drealan "Hey, what do you think of going and proposing to Jeff, the athletic director, to get a new set of the uniforms for the team?" With the success that we've had, I think we've got a little bit of a leg to stand on when it comes to that stuff… felt like we'd be able to go into a room and have that conversation and come out with something good. Once we proposed it to Jeff and Drealan approved it too, I went and met with our Dakota Sports rep and went through the design process. I sat here and deliberated forever on what colors I'd go with, and I eventually ended up with the black top and the Trojan logo on it and the light blue shorts."
With only a few regular season meets left, the Trojans are preparing to battle for the indoor conference title on February 19th in Brookings. Take a further look at the indoor schedule by clicking the link below. Go Trojans!